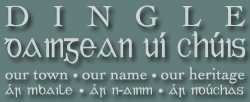 Dingle: Our Town - Our Name - Our Heritage
DINGLE DAINGEAN UI CHUIS.
If you would like more information about the Dingle peninsula, please visit the Dingle Peninsula Web Site.


"…the adulteration of O Caoimh to O Cuiv"
The Irish Examiner (The Dingle Letters)
8/11/2005
I REFER to the letter from Eamon O Cuiv TD (Irish Examiner August 4th) in answer to my letter of July 30.

An Leiriu Shimpli simplified the Irish spelling system by eliminating extraneous letters from a word or surname. Thus, O Seaghdha became O Se and O Laoghaire became O Laoire. However, the only 'simplification' in all of the thousands of Gaelic surnames to add a foreign letter (in this case 'v' was the adulteration of O Caoimh to O Cuiv, a very recent introduction made within the last three generations.

Irish surnames are the oldest permanent surnames in Europe and O Caoimh is one of the most ancient, becoming permanent by the end of the 10th century. Your scribe in the Annals of Inishfallen similarly adulterated the name by spelling it I Kymh and using a 'k' and 'y' which, like 'v' also do not exist in the Irish alphabet.

To say that official sanction was given to the use of the letter 'v' at the beginning of a word begs the question. All these 'v' words are foreign and imported words (such as veasalin and vaimpir). In addition doesn't the letter 'v' in O Cuiv lay at the end of the word?

To quote Edward Maclysaght (Deceased Chief of Heraldry in Ireland): "Our reformers should remember that surnames are heirlooms - not mere words".
Denis Healy Courtmacsherry Cork, 11th August 2005.