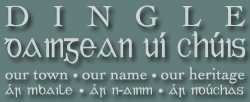 Dingle: Our Town - Our Name - Our Heritage
DINGLE DAINGEAN UI CHUIS.
If you would like more information about the Dingle peninsula, please visit the Dingle Peninsula Web Site.


O Cuiv - the spelling of my name.
The Irish Examiner (The Dingle Letters)
8/4/2005
I REFER to a letter from Denis Healy (Irish Examiner, July 30) regarding the spelling of my name. The historical background is as follows:

In the preface of the 1904 edition of his dictionary, Fr Padraig Dinin states: "Many orthographical difficulties present themselves to the lexicographer. It was to alleviate these difficulties that a simplified spelling system by my grandfather Shan O Cuiv, Dr Risteard O Dalaigh, Prof Osbourne Bergin and Tomas O Rathaile, entitled Irish Made Easy (An Leitriu shimpli") was introduced in 1907. Shan O Cuiv also published several books in the 1920s using the "leitriu shimpli"

My father, Prof Brian O Cuiv, referred in a lecture he gave at Trinity College, later published in Irish Dialects in Irish Speaking Districts, to the outrage the Leiriu shimpli provoked. However, he went on to say, "the many critics of the old leitriu shimpli' who were scandalised by the spelling Cuiv in my name would have been even more shocked to see for the year 1259, the entry 'Corc mac Finguni i Kymh d'ec. Beannact era anmin'. The quotation is from the annals of Inishfallen (which were written in Irish)."

Furthermore, in Litriu na Gaeilge: An Caighdean Oifgiuil, which was introduced by Rannog an Aistriuchain, official sanction was given to the use of the letter V at the beginning of a word, for example "vera" and "veidhlin".

I hope this clarifies this issue.
Eamon O Cuiv TD Minister for Community, Rural and Gaeltacht Affairs. 4th August 2005